Bitcoin trades north of the $40,000 price mark with bullish momentum in the last 24 hours. Today, the U.S. Federal Reserve (FED) is expected to begin its monetary tightening policy.
Related Reading | TA: Bitcoin Breaks $40K, Key Upside Break Suggests Trend Change
The financial institution could raise interest rates hikes, and slowly pull liquidity from global markets. Bitcoin and risk-on assets, such as equities, are expected to turn bearish. So far, BTC's price has failed to meet expectations.
At the time of writing, Bitcoin trades at $40,416 with a 4% profit on the last day.
Bitcoin has been behaving on its own with resilience to a potential shift in the U.S. dollar monetary policy. In step of trading as a stock, BTC's price seems more akin to Gold's (XAU) price action.
The precious metal recently broke above the $2,000 but has backtracked on some of its gains. This downtrend could be short-lived and could predict what's coming for Gold and Bitcoin. Two different assets are sometimes traded under the inflation hedge narrative.
Senior Commodity Strategist for Bloomberg Intelligence Mike McGlone indicated that the FED last increased interest rates to 25 bps or 0.25% in 2015. Gold was coming from a multi-year downtrend that began in 2011.
The precious metal saw appreciation posts the 2008 global economic crisis, but as markets began to recover, investors begin reducing their gold positions. As seen below, 2015 was the last time during the past decade that Gold's price saw a low at around $1,000.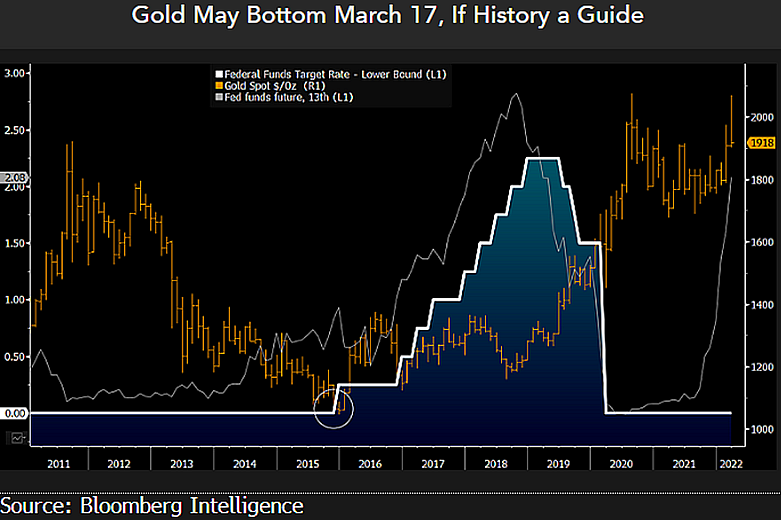 Gold began an upward movement, as McGlone noted, the "next day" after the FED announced the beginning of a new tightening cycle. The current inflationary environment, with the risk of an extended war in Europe, could fuel a fresh Gold rally and Bitcoin could follow.
Bitcoin On A Tightening Cycle
At least, Bitcoin could continue to disappoint traders waiting for the low $20,000. The cryptocurrency, according to the pessimistic traders, has been appreciating a favorable environment since 2020.
However, the XAU/BTC chart shows Bitcoin has been appreciating for the past decade despite the FED's monetary policy, or because of it.
The short-term reaction to the FED announcement could hint at what BTC's price will do in the coming months. As NewsBTC has been reporting, cryptocurrencies could appreciate if the financial institution hints at a less aggressive monetary policy.
Related Reading | Bitcoin Value Takes A Hit As U.S Inflation Rises
According to the analyst TedTalksMacro via Twitter:
Fed hikes by 25bps today, risk assets (BTC, equities) higher on the news. Powell indicates at the press conference that more hikes to come (4-5 by EOY) – how the market moves during/after the press conference to be decided by whether it's a dovish or hawkish hike Dovish hike will be signaled by any mention of caution during the press conference. A hawkish hike will be signaled by any intention to continue hiking rates/tightening despite negative impacts on economic growth!
Original Source