Polkadot price has successfully recovered on the weekly chart after the altcoin moved above the $7 price mark. In a week, Polkadot grew by almost 8%. Over the last 24 hours, the DOT price went north by 2%.
Since Bitcoin consolidated underneath the $25,000 price, several altcoins, including DOT, started to lose their price momentum. The technical structure of DOT was bearish, but the overall sentiment in the market was bullish.
Demand for the altcoin noted a fall, but buyers still outnumbered sellers at press time. For DOT to move into a bullish price zone, the coin must register an increase in demand and accumulation over the subsequent trading sessions.
The Polkadot price is trading 88% below its all-time high, secured in 2021. The bulls can soon take over if DOT breaks past its immediate price ceiling. On the other hand, if demand retreats further, the bears might gain complete control over the price.
Polkadot Price Analysis: One-Day Chart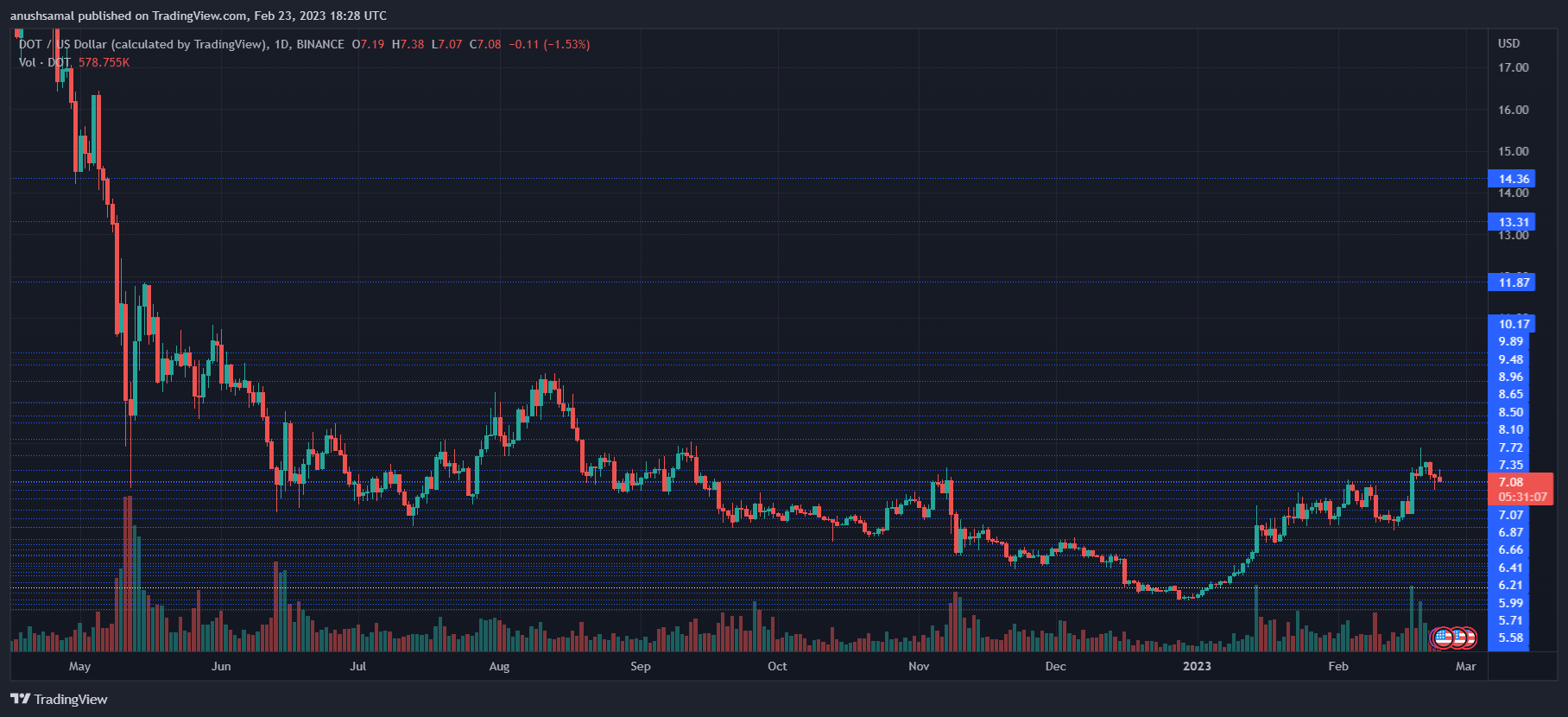 DOT was trading at $7.08 at the time of writing. The altcoin price was trading very close to its immediate resistance mark. For the bulls to take control, DOT must rise above $7.20 in the next trading session, or the coin will fall in value.
Once DOT breaks past the $7.20 mark, it may encounter another resistance at $7.34, which has previously acted as a ceiling for the altcoin.
In the event of declining demand, the first stop for Polkadot would be at $6.90 and then at $6.60, strengthening the presence of bearish price action. The amount of DOT traded in the last session was red, reflecting increased selling on the chart.
Technical Analysis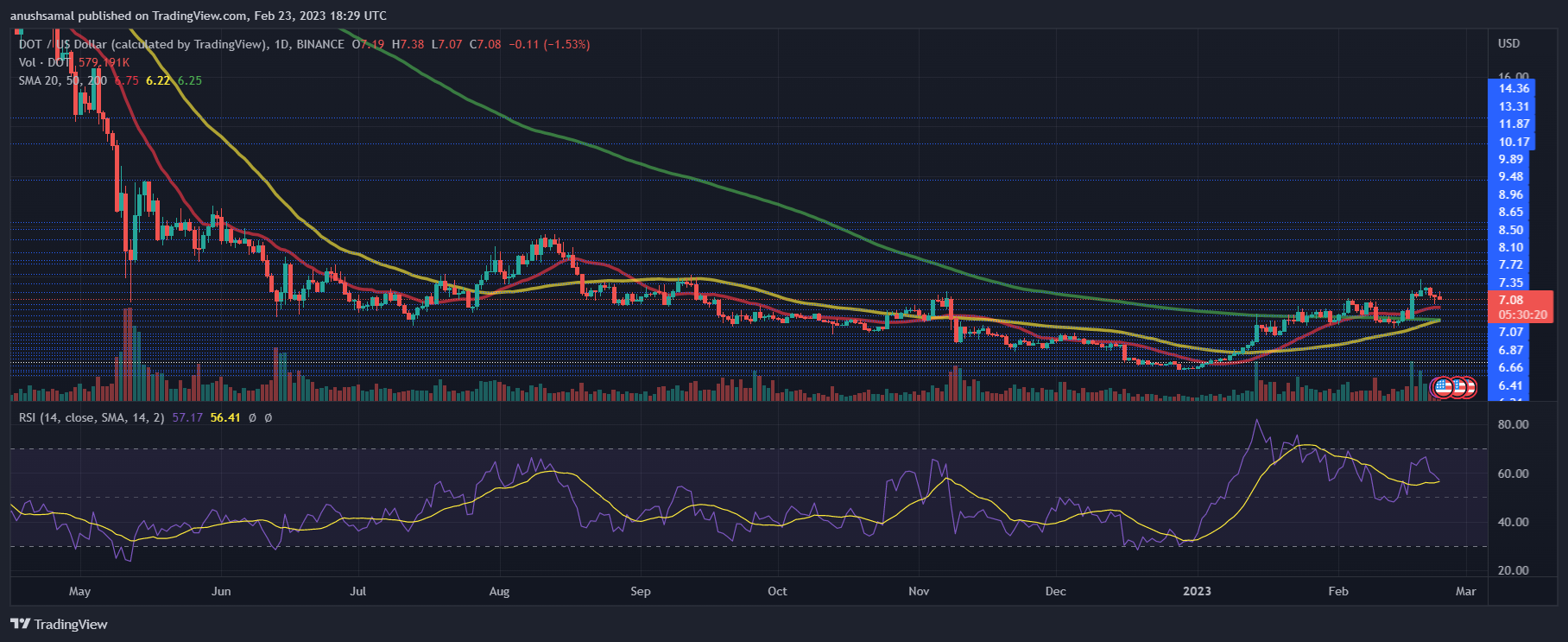 The altcoin could not maintain momentum since it visited the overbought zone. The Relative Strength Index noted a downtick, but the indicator stood slightly below 60. This reading meant that buyers remained in a favorable area although demand fell.
By the same, Polkadot's price managed to hold it above the 20-Simple Moving Average (SMA) line. Trading above the 20-SMA means that buyers continued to drive the price momentum in the market.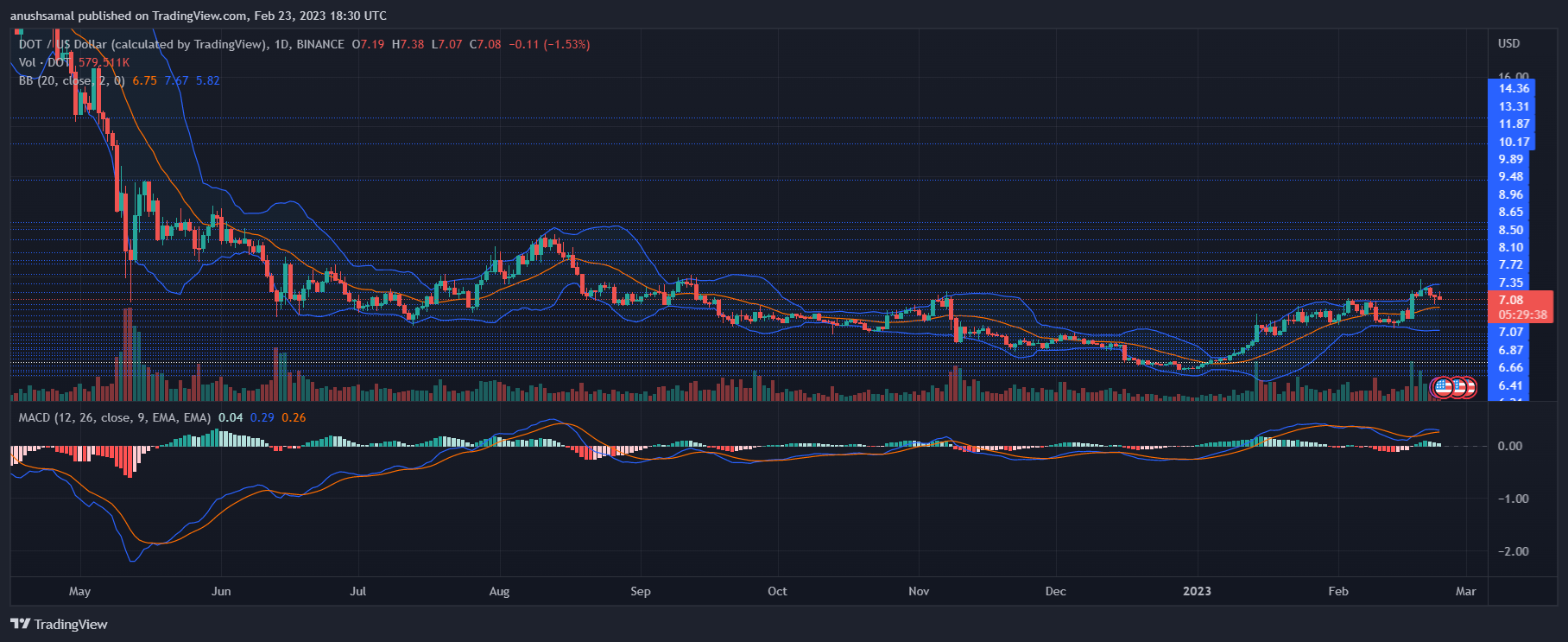 The technical outlook reflected that the bulls were trying to get hold of the market. The Moving Average Convergence Divergence indicates price momentum and reversals, depicted in green signal bars.
These green histograms are tied to the buy signal, which is further linked to an increase in price over the next trading session.
Bollinger Bands suggest incoming volatility; the bands opened up, implying that the asset's price might change further. For DOT to depict bullish strength, the coin has to breach its multi-month-long resistance level of $7.34.
Featured Image From UnSplash, Charts From TradingView.com
Original Source