OKB is rising in response to the latest improvement in the overall crypto market capitalization. However, compared to other cryptocurrencies' price increases, OKB's gain today has singled it out.
The crypto held its 30-day gain at a massive 54.7% and a 14-day price increase of 29% despite the previous downturn that hit the market days back. With a 7-day price increase of 7.90%, OKB is outperforming similar Ethereum ecosystem cryptocurrencies, which have rallied 1.30%. 
OKB is trading with a 24-hour increase of 13.31% gain at press time. What's next for the token after a nearly 20% rally earlier today? Will it sustain this performance or retrace to the red zone? 
OKB Token Price Performance History And Factors Fuelling Its Price Action
As of January 13, 2019, OKB traded at $0.580608, the lowest price in its four years in existence. Compared to this price, OKB has risen 8,303.39% from its all-time low, with a 6.32% decline from its all-time high. According to Coingecko, OKB market sentiment is bullish today, with over 62% of its users feeling good about the coin.
Following historical data, OKB had its ups and down, but the coin has steadily increased from its all-time low to its current price. The most notable rallies happened in 2021. OKB hit $41.59 on May 2, 2021, but later saw some retracement from the same month down to August 2021, when it began to rebound again before taking a hit from the 2022 bear market.
However, OKB saw a drastic improvement in price in January and has seen notable rallies since then. It reached a new all-time high of $52.80 on February 16 at 23 UTC, gaining 23.13%.
OKX's low trading fees are among the factors behind OKB's performance over the years. OKX charges maker fees of 0.05% and 0.02% taker fees. Also, as an Ethereum-based token, OKB might benefit from some of the latest developments on the Ethereum network, including the hype around the Shanghai upgrade.
However, OKX experienced some development, like the new BLUR/USDT Perpetual Swap that went live on February 15 on the OKX trading platform. Also, on February 15, OKX added a new feature called Shark Fin, a USDT-principal protected trading tool, to help users gain USDT in any market condition. These and the latest OKX Wallet strategic partnership with Core DAO announced on February 16 might be among the factors driving OKB's recent rally.
Also, the broader crypto market cap is up after the release of the January CPI report, which must have also rubbed off on OKB.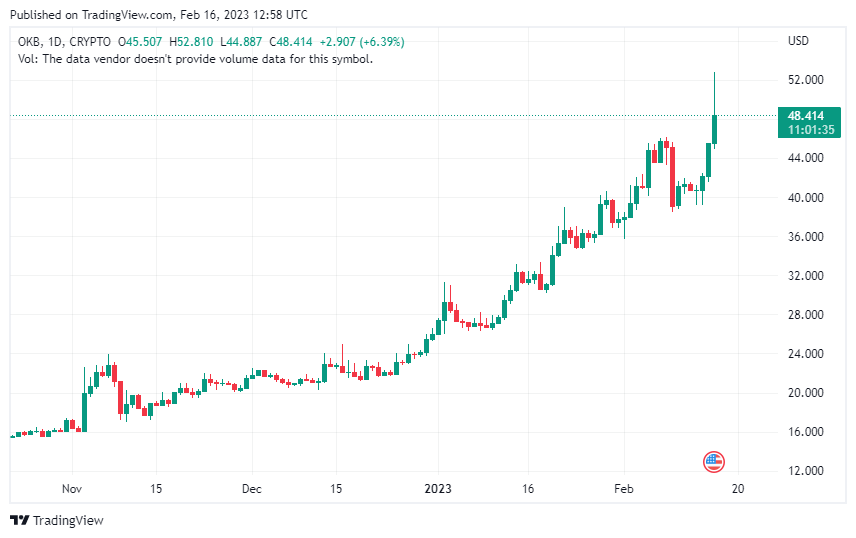 OKB Price Outlook and Prediction
The token is approaching its all-time high value of $52.31, trading at $48.32 today. OKB's price has doubled from its $24.15 closing price on December 29. It is currently in an uptrend after three consecutive green days and recording higher highs.
OKB is trading above its 50-day and 200-day Simple Moving Average (SMA), a bullish signal that has persisted for most of 2023. Its support levels are $39.17, $40.41, and $42.89, while the resistance levels are $46.61, $47.85, and $50.33.
The token's Relative Strength Index (RSI) is 71.02 in the overbought region. It reflects the bullish pressure in the market and is showing a buy signal. Also, OKB's Moving Average Convergence/Divergence (MACD) is slightly above the signal line and is pointing upwards, which is a bullish trend.
OKB is closing in on its third resistance level of $50.33. If the bulls persist, it will likely surpass this level and reclaim its all-time high value in the coming days. But if the price retraces, the $42.89 support will prove critical.
Note that crypto assets are volatile and might go against the prevailing market trend. Sound knowledge of technical, fundamental, and risk analysis is essential for crypto traders.
Featured image from Pixabay and chart from TradingView.com
Original Source