The token of the largest Ethereum liquid staking provider Lido Finance, LDO, has seen a strong rally in the past few hours. After Coinbase CEO Brian Armstrong shared the rumor that the U.S. Securities and Exchange Commission wants to ban retail crypto-staking in the U.S., the LDO price ballooned by more than 22%.
At press time, the Lido Finance token (LDO) was trading at $2.69, recording a strong gain of around 10% over the past 24 hours. The backdrop for the rally is the assumption that Armstrong's tweet implies that third-party decentralized staking providers could benefit from the rumored ban of crypto staking in the US.
Lido and other decentralized on-chain protocols for liquid staking are set up as a countermeasure to centralized exchanges that also offer ETH staking. Coinbase accounts for 10% of all ETH staked, Binance claims 10% and Kraken 9.2%, according to Nansen's data.
Decentralized providers such as Lido Finance could take over these shares in the event of a ban. In this respect, investors seem to be betting on Lido Finance as the biggest profiteer when an announcement about it may be made by the SEC today, as Bitcoinist reported.
Medium Term Price Outlook For Lido Finance (LDO)
In the short term, the LDO price displays further upside potential if the rumor proves to be true. But also in the medium term, LDO seems to be able to rise further based on its fundamentals.
On February 7, Lido Finance released its new protocol version, V2. The update is expected to go live with the successful implementation of Ethereum's Shanghai update in March. The hard fork will allow ETH stakers to withdraw their tokens for the first time in over two years.
The new version of Lido FInance will do the same and allow stakers to withdraw their tokens plus earned the earned rewards, among other features. Previously, it was not possible to withdraw "real" ETH. The interest was issued in the form of stETH.
In addition, the update also aims to empower solo staker node operators for Ethereum in the Lido system. This is to further "diversify" the validator selection, according to the announcement. In the past, Lido was repeatedly criticized for a lack of decentralization and potential censorship because of its huge market share.
At press time, the LDO rally was rejected at the resistance level of $2.83. The mark is of key importance for the continuation of the uptrend. Otherwise, a correction to $2.40 could be imminent. However, should the bulls prevail, the August 13 high at $3.09 would be the next target.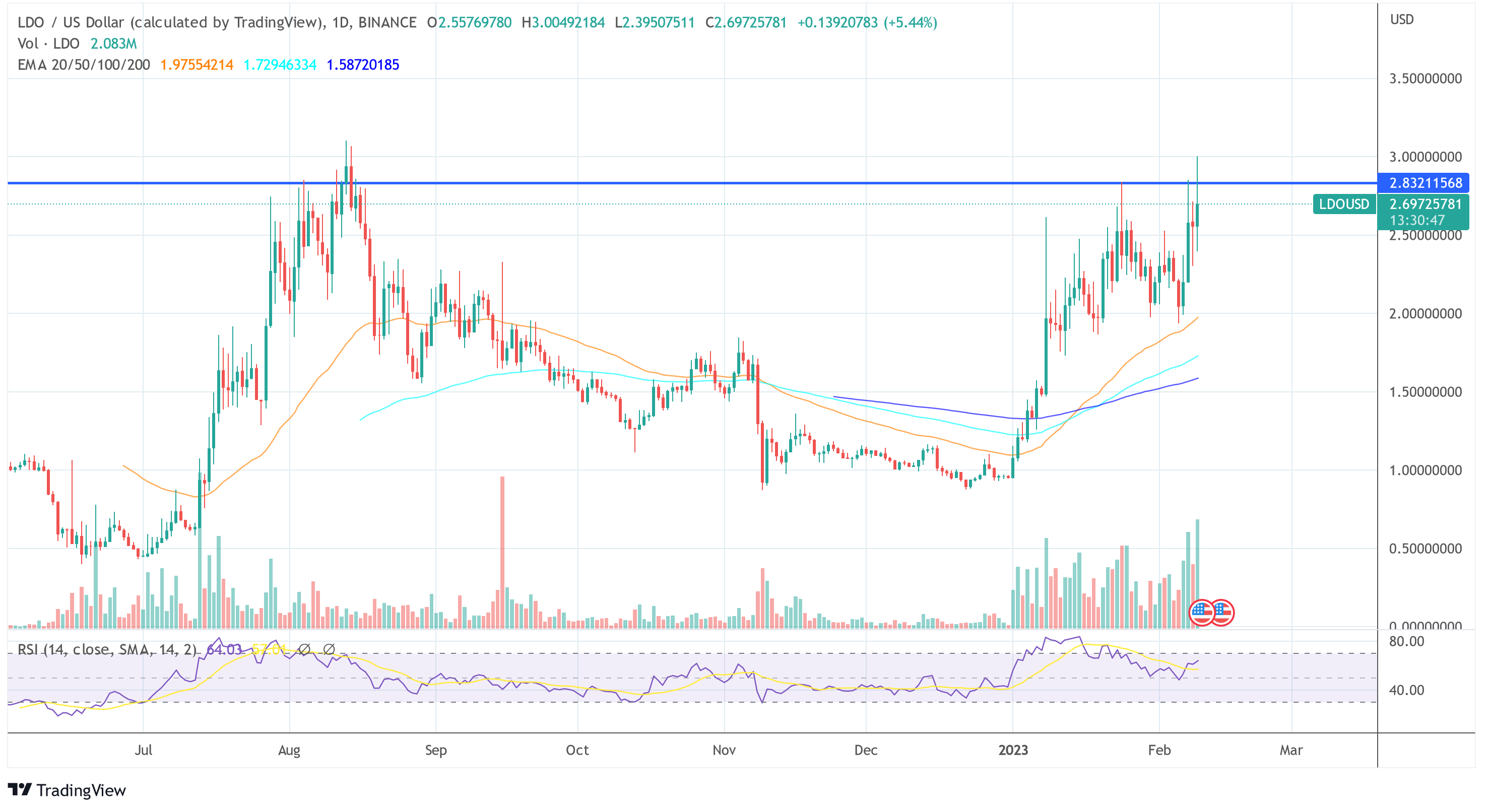 Featured image from iStock, Chart from TradingView.com
Original Source