Ethereum has been closely tracking Bitcoin's price action throughout the past several days and weeks, which has led ETH to once again enter a bout of sideways trading within the mid-$130 region.
Despite being able to post a strong rebound from its recent lows, it is important to note that analysts are widely anticipating ETH to see an intense downwards movement in the near-term.
This also comes in tandem with some slight growth in the cryptocurrency's open interest on BitMEX, which may be a sign that the crypto's next move will be massive.
Ethereum Faces Weak Technical Situation as Analysts Eye Near-Term Downside 

At the time of writing, Ethereum is trading up just under 1% at its current price of $133, which marks a slight decline from daily highs of over $135 but a notable rebound from lows of $125.
These lows were set yesterday in tandem with Bitcoin's decline to $5,800, with bull's ardent defense of this level creating an upwards tailwind that has allowed virtually all major altcoins to rally.
In the near-term, it does appear that the mid-$130 region has become resistance for ETH, and whether or not it moves past this level may be dependent on how Bitcoin trends.
One trader said in a recent tweet that Ethereum is flashing signs of weakness against its BTC trading pair, noting that it is currently hovering directly between key support and key resistance.
"Ethereum: The same approach still on ETH / BTC. I'm interested at 0.0172-0.0175 / 0.019-0.01925 areas for support or when we flip the 0.022 area. Right now it's just hanging in between. Against USDT also not showing strength."
ETH Futures Sees Declining Volume, But Open Interest Begins Climbing 

Two interesting trends that may suggest the next movement will be large are the crypto's declining futures volume and climbing open interest on BitMEX.
According to data from Skew, Ethereum's futures volume across all major cryptocurrency exchanges has declined significantly in recent times, hitting a monthly low on March 29th before climbing slightly yesterday.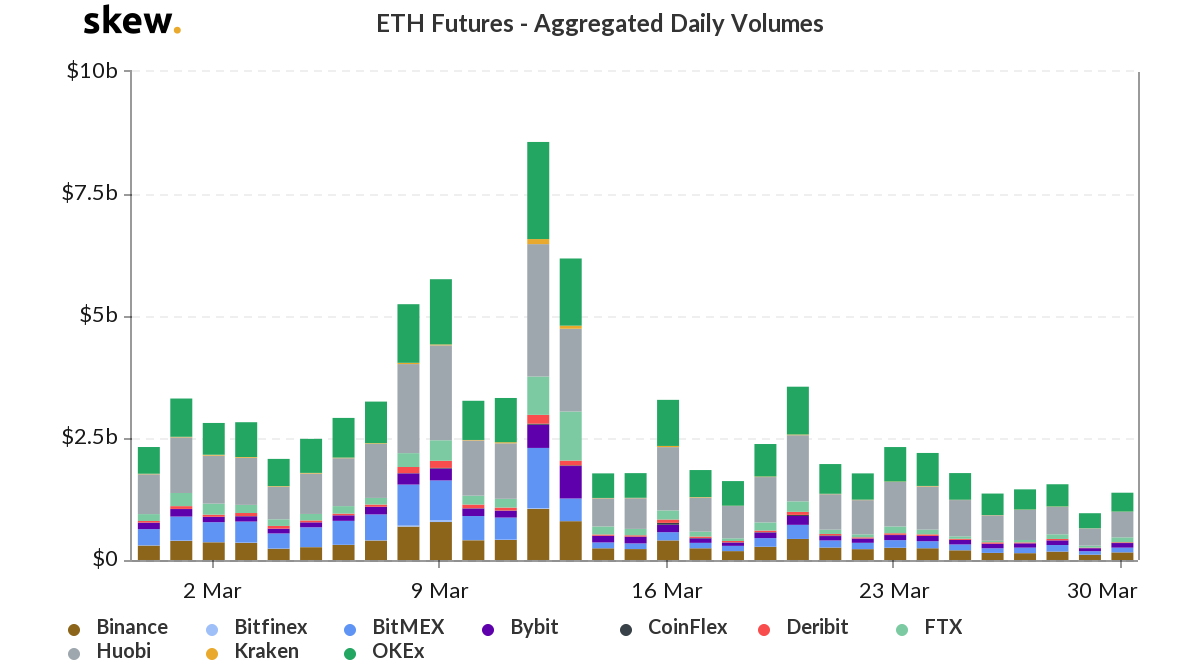 In the past, low futures volume hasn't lasted for too long, with it climbing as the crypto's volatility picks up. This could mean that a big movement is imminent.
Further supporting this notion is the fact that open interest on BitMEX is showing tempered signs of growth, which is also a historical indicator of imminent volatility.
Featured image from Shutterstock.
Original Source