The Cardano price has been in a downtrend for the last two weeks. In the previous 24 hours, ADA has lost close to 5% of its market value. The ADA price has dropped by 10% in the last week. With Bitcoin losing its price momentum and falling into the $21,000 zone, all altcoins have been moving south on their respective charts.
Because of broader market weakness, demand and buyers faded. The technical outlook for the altcoin also sided with the bears.
Accumulation declined, which caused demand for the coin to dip further. Although the ADA price is falling due to a short-term price correction, it can start to reverse its price action if it remains above its immediate support line.
The market capitalization for ADA fell, which was also an indication that the selling pressure was mounting. If with a slight push from buyers, ADA breaks past the $0.40 price mark; then the coin can rally. Similarly, if the BTC price remains above the $21,600 level, other altcoins can also attempt to breach their nearest price ceilings.
Cardano Price Analysis: One-Day Chart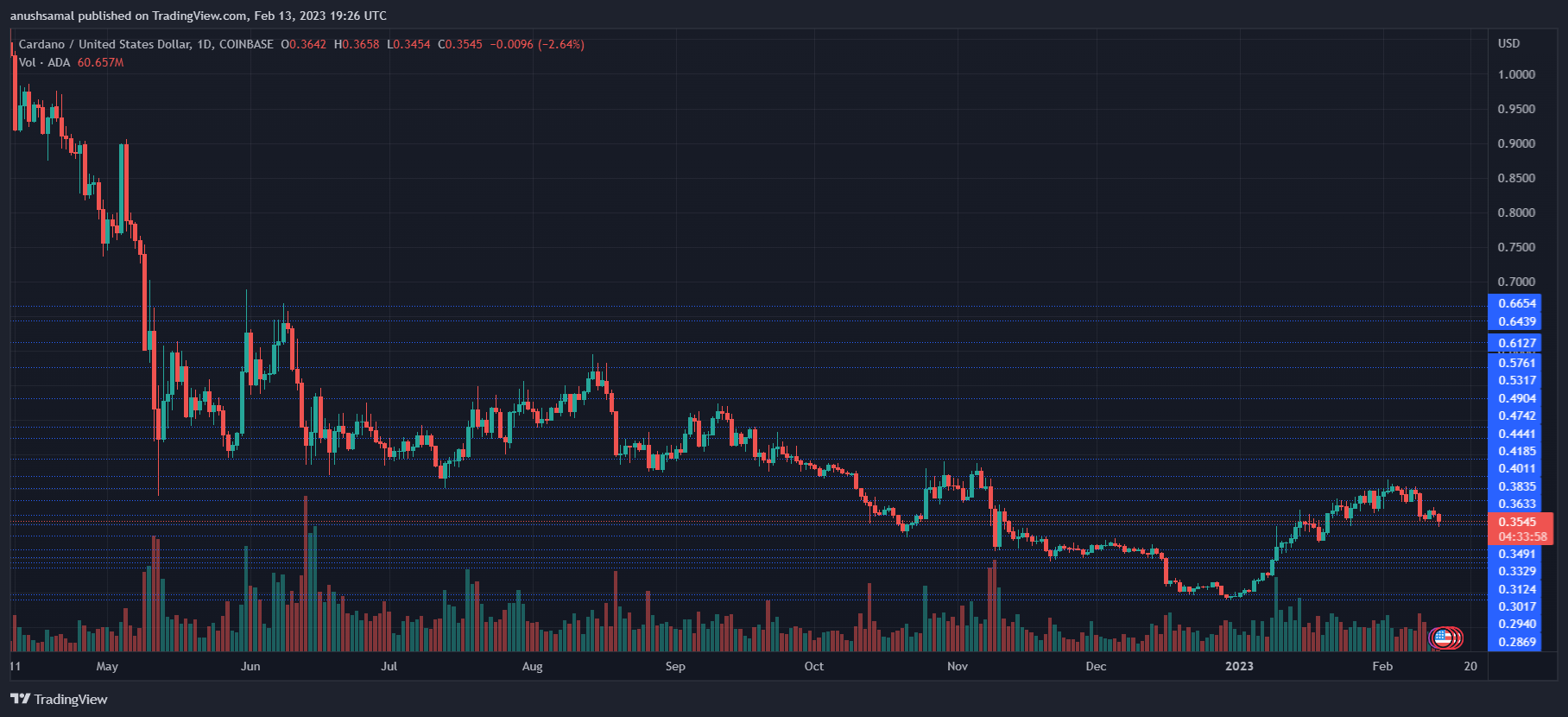 ADA was trading at $0.36 at the time of writing. The altcoin moved quite close to its immediate price floor of $0.34. If the Cardano price remains above the $0.34 mark, the coin could attempt to breach the $0.38 price mark.
A move above the $0.38 price mark with an increase in demand will pave the easy way to the $0.40 price level. Immediate resistance for the Cardano price was at $0.38.
If bearish pressure intensifies, a fall from the $0.34 level will take ADA straight to $0.30. The amount of ADA traded in the last session was red, indicating a fall in buyers.
Technical Analysis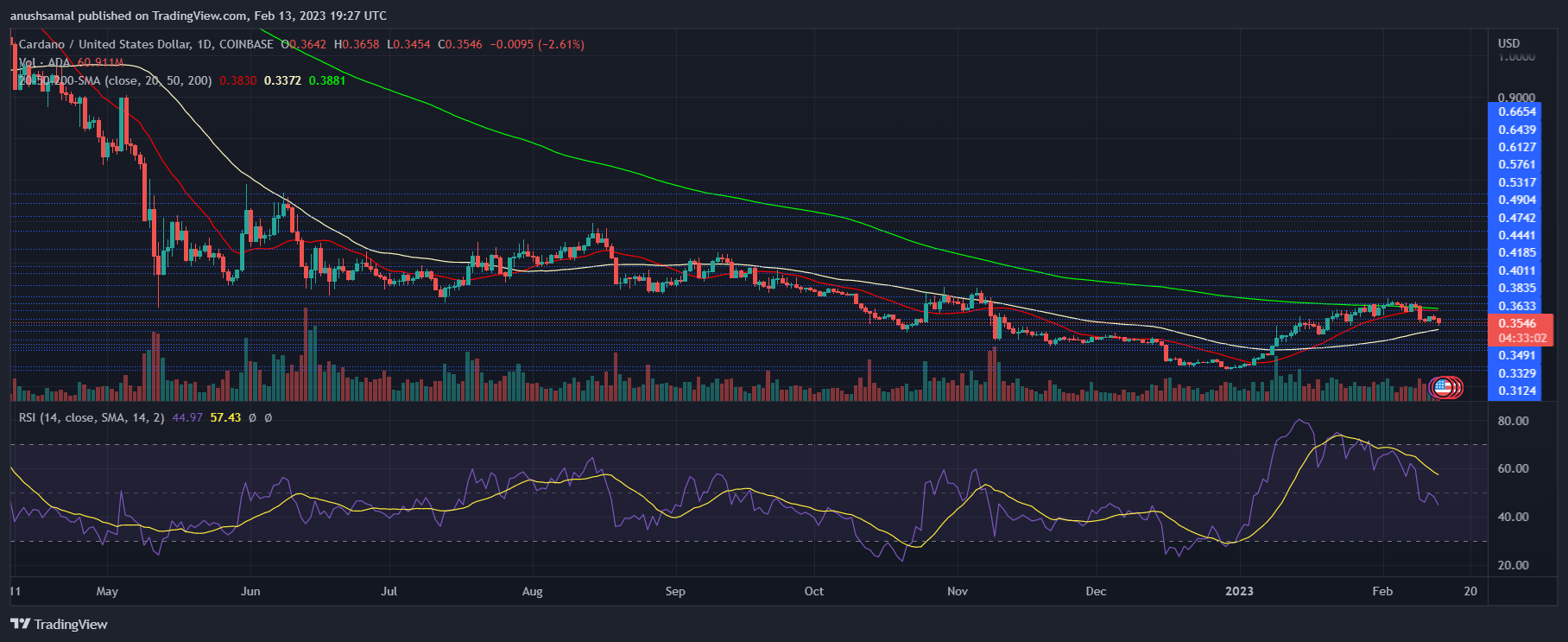 ADA gradually descended from its overbought and overvalued zone when it lost the $0.39 price mark. The Relative Strength Index stood below the 50-mark, highlighting that the asset witnessed more selling than buying.
Following the above, ADA moved below the 20-Simple Moving Average line as sellers were driving the price momentum in the market.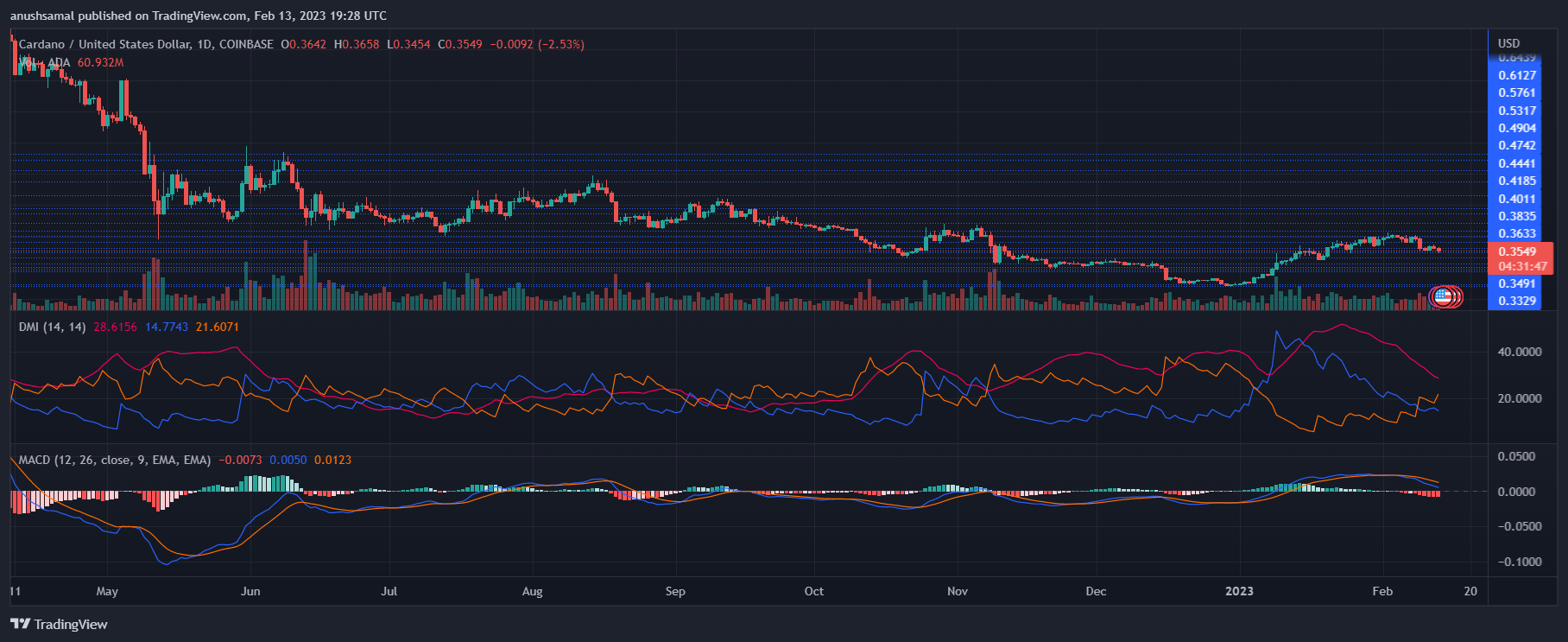 The Moving Average Convergence Divergence (MACD) indicates price momentum and reversals formed by the red histograms, which is a signal to sell the asset. A dip usually follows this in price. Under the bears, other indicators also depicted a bearish pull on the chart for ADA.
The Directional Movement Index portrays the price direction of the asset. The indicator was negative, with the -DI line (orange) above the +DI line (blue).
The Average Directional Index (red) determines the trend; the indicator fell below 40, which meant that the current trend would weaken over the next trading session.
Featured Image From UnSplash, Charts From TradingView.com
Original Source