Although the meme coin PEPE was launched only four days ago, on April 16, it has been one of the hottest topics on the crypto markets in recent days. And not without reason. Since the launch, the PEPE price has skyrocketed by more than 20,000%.
The creators of PEPE call the token itself "the most memeable meme coin in existence" and entitle Dogecoin, Shiba Inu and FLOKI as direct competitors. One of the meme coin's taglines is "the dog days are over."
According to CoinMarketCap, PEPE's fully diluted market cap has grown to nearly $131,5 million as of today, ranking the meme coin #2604 by market cap. For comparison, the meme coin FLOKI is ranked #111 and has a fully diluted market cap of $664.8 million, meaning that PEPE needs to 5x to reach the same size as the dog coin.
At the time of writing, there were 28,647 holding addresses, whereas the number was already at 7,085 on the first day. Top 10 holders currently own 16.71%, top 20 holders 23.01%, top 50 holders 35.64% and top 100 holders 44.15% of all tokens.
The trading volume has also surged massively in the last 24 hours and stands at $179.7 million.
One story caused a particular stir in recent days. As reported by on-chain data provider Lookonchain, a smart money investor spent just 0.125 ETH, about $251, to buy 5.9 trillion PEPE four days ago, worth $1.14 million now.
The SmartMoney is the luckiest guy I've seen recently.

He spent 0.125 $ETH ($251) to buy 5.9T $PEPE ($1.14M currently) 4 days ago.

If he sells at the current price of $0.0000001933, he will get a profit of ~$1.14M, more than 4,500x.https://t.co/cUqMO6zIVO pic.twitter.com/Ex5voyRvsa

— Lookonchain (@lookonchain) April 19, 2023
Potential PEPE Buyers Need To Know This
However, potential PEPE investors should be cautious. As 0xScope explained via Twitter, more than 20 addresses spent an amount of about 0.02 ETH on Fixed Float and Changenow to buy the new meme coin within five minutes of the token's trading launch.
Now these PEPE are worth between $0.8 to $1.1 million. Together they control 11.9% of the supply and are worth a total of $14 million. It has not yet been conclusively determined whether these are insiders. However, analysts warn that potential buyers should watch these addresses to avoid risk.
A more in-depth "tokenomics" analysis has been published by Arcanum Ventures. In terms of utility, the company notes that there are zero taxes, 93% goes to liquidity, 7% is held by the team for future CEX listings, LP tokens are burned. The token supply is 420,690,000,000, 100% is in circulation.
The benefits for holders are the classic meme coin perks: "meme, vibe & HODL, and generational wealth," according to Arcanum Ventures. "High-level overview of the roadmap reminds us of South Park," the company adds.
In terms of potential insiders, Arcanum also issues a warning: In the first three hours, there were more than 170 purchase transactions from decentralized exchanges, each purchase was about 0.50% of the total supply, all were unique wallet addresses – 70% of which had no transaction history, Arcanum analyzed.
Looks like these UNDOXXED wallets scooped up 40% of the tokens after listing. Even more alarming, half of them proceeded to dump against retail buys.

This looks like a hype #memecoin project. With suspicious on-chain activity. And very few promises. Do you think they'll take PEPE meme mainstream?
At press time, the PEPE price stood at $0.00000033785.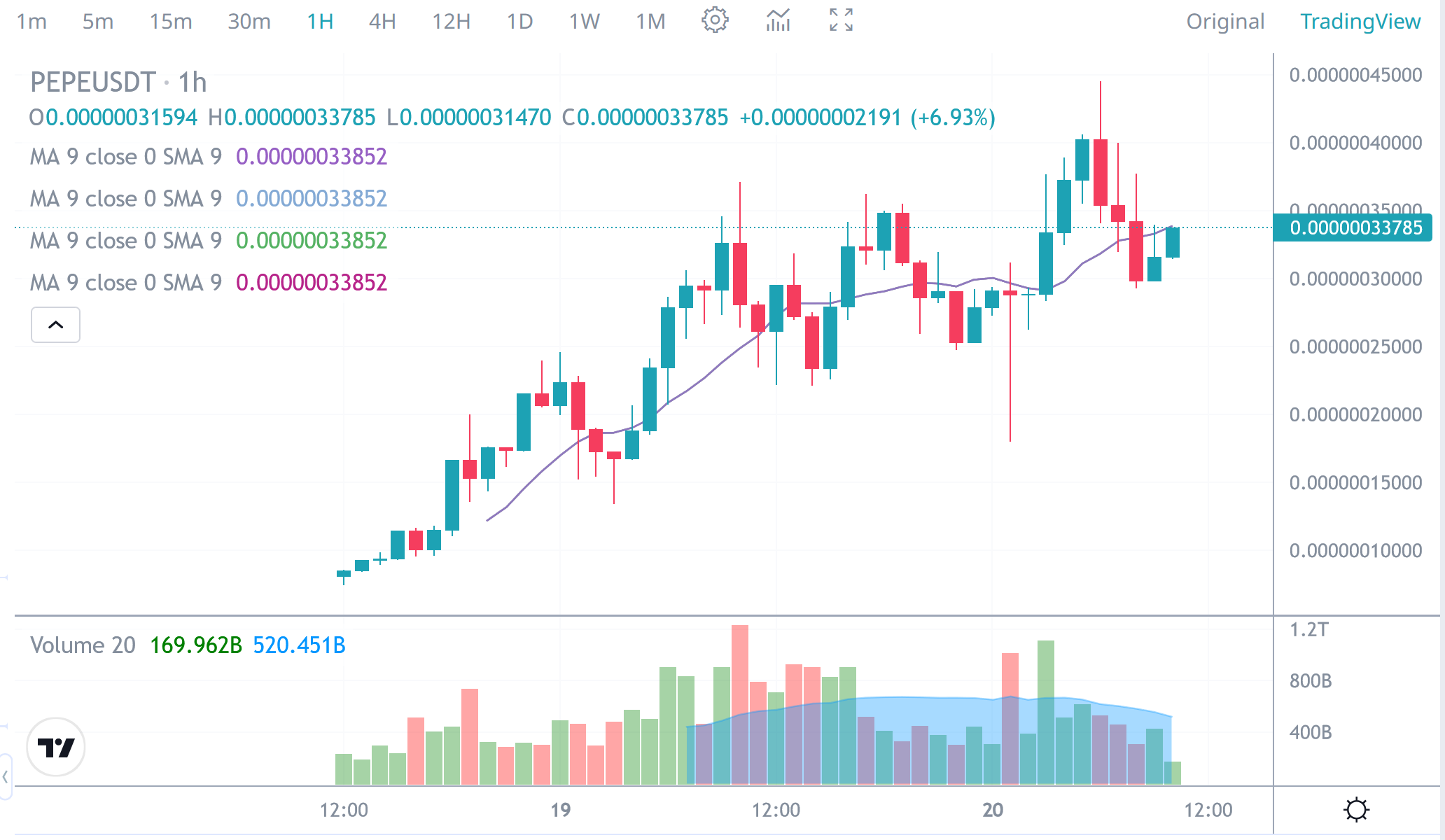 Featured image from Twitter, chart from TradingView.com
Original Source