BlackRock, a global investment company managing over $10 trillion of assets as of January 2022, has increased its stake in Silvergate Bank, a crypto-friendly bank, to 7.2%, according to a filing with the United States Securities and Exchange Commission (SEC) on January 31 shows.
Silvergate Share Price Rising
Following the announcement, Silvergate Bank's stock prices rose by around 10.8% to session highs of over $13.50. However, the stock is still down over 87% from 2021 peaks.
BlackRock reveals that it owns 2,285,197 SI shares, an increase over the past two years. Records showed that BlackRock bought more shares, pushing their stake from 1,144,811 shares, or 6.10%, as of February 2021 to 1,871,537 shares, or 6.30%, in February 2022.
By early last year, top venture capitals, including Vanguard Group Inc, held positions in Silvergate. However, the largest shareholder was PARNX – Parnassus Fund Investor Shares, which had 9,938,796 shares, representing a 31.45% stake in the bank. 
Per their huge holding, based on February 2022 information, Parnassus appeared to be bullish on crypto's long-term prospects. Still, parallel data shows that Parnassus' products with crypto exposure via their Silvergate only represented 2% of their total assets by the close of 2022.
Turbulence In Crypto
Despite institutions' confidence in crypto and some of the industry's infrastructure providers, falling crypto prices and Fear, Uncertainty, and Doubt (FUD) following the collapse of FTX, a cryptocurrency exchange, heaped pressure on Silvergate Capital. 
Bitcoin fell from November 2021 highs to less than $20,000 in November 2022.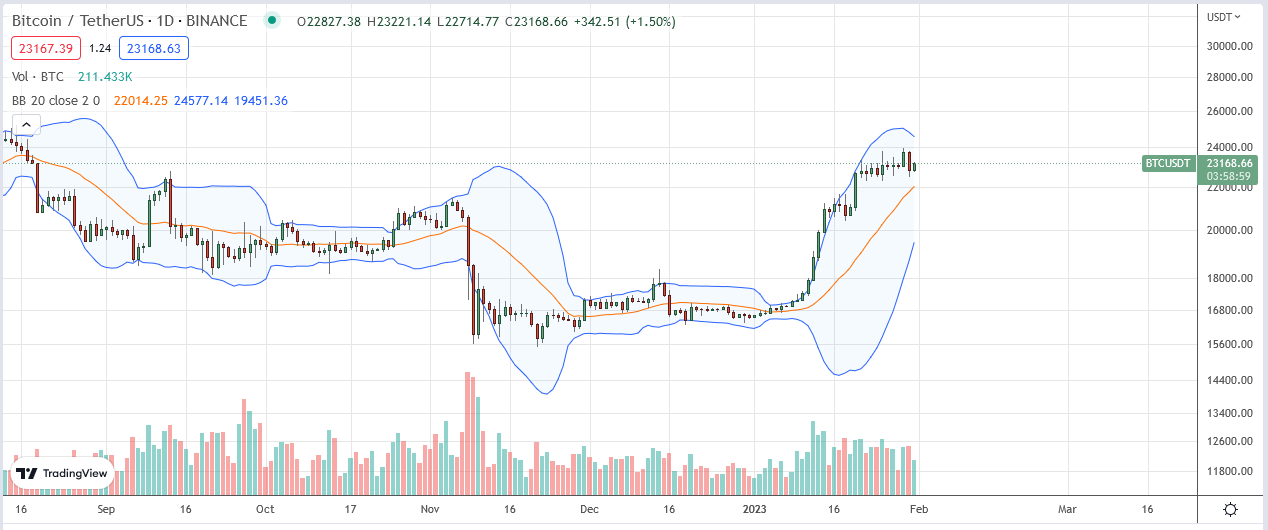 On January 27, Silvergate said it would suspend dividend payments to shareholders to remain liquid. However, it reassured the market that it held more assets than liabilities, explaining that it needed extra cash to navigate the crypto storm. 
This, they add, will allow them to manage expenses, evaluate products, and manage customer relationships. Nonetheless, Alan Lane, CEO of the financial institution, assured the community that it remains bullish on crypto but needed a strong capital position.
The bank posted a net loss of $1 billion in Q4 2022, pointing to unfavorable market conditions and fearful investors who withdrew coins from centralized exchanges following the bankruptcy of FTX. To fulfill their obligation, in light of a spike in fund withdrawals, Silvergate sought wholesale funding and sold bonds. 
In early January, Silvergate laid off 40% of their staff as part of their efforts to reduce expenses and stay afloat amid turbulence in crypto.
Feature image from Canva, Chart from TradingView
Original Source