The first of two key events in a historic week for Bitcoin and financial markets worldwide is in the books.
While the CPI release was today at 8:30 ET, the last FOMC meeting of the year is scheduled to take place tomorrow featuring a new dot plot. CPI and FOMC coincide this week for the first time in a while, making it blockbuster week for Bitcoin.
And drum roll! The Bureau of Labor Statistics released the November figures for the Consumer Price Index (CPI) and Core CPI a few minutes ago.
The expectation for CPI was 7.3% CPI (0.3% MoM), up from 7.7% (0.4% MoM) in October. Core CPI was expected at 6.1% (0.3% MoM), and was 6.3% (0.3% MoM) the previous month.
The new numbers for November read as follows: CPI fell 0.6% and was 7.1% in November. Thus, the CPI comes in 0.2% better than expected.
Core CPI was 6.0 % in November, falling by 0.3% from the previous month. Compared to the prediction, Core CPI is 0.1% below expectation.
Inflation dropping.

US November CPI +7.1% y/y vs +7.3% expected.

Send it all.

— The Wolf Of All Streets (@scottmelker) December 13, 2022
Already in the run-up to the print, the bulls pushed the Bitcoin price up in anticipation of positive data. The price stood at around $17,550 before the announcement.
After the release, the price reacted extremely bullish to the news along with the S&P 500. At press time, BTC was up almost 6% within the last 24 hours and was trading at $17,907.
With a local high of $18,209, the price was rejected at the 2-month high of November 11 for the moment being.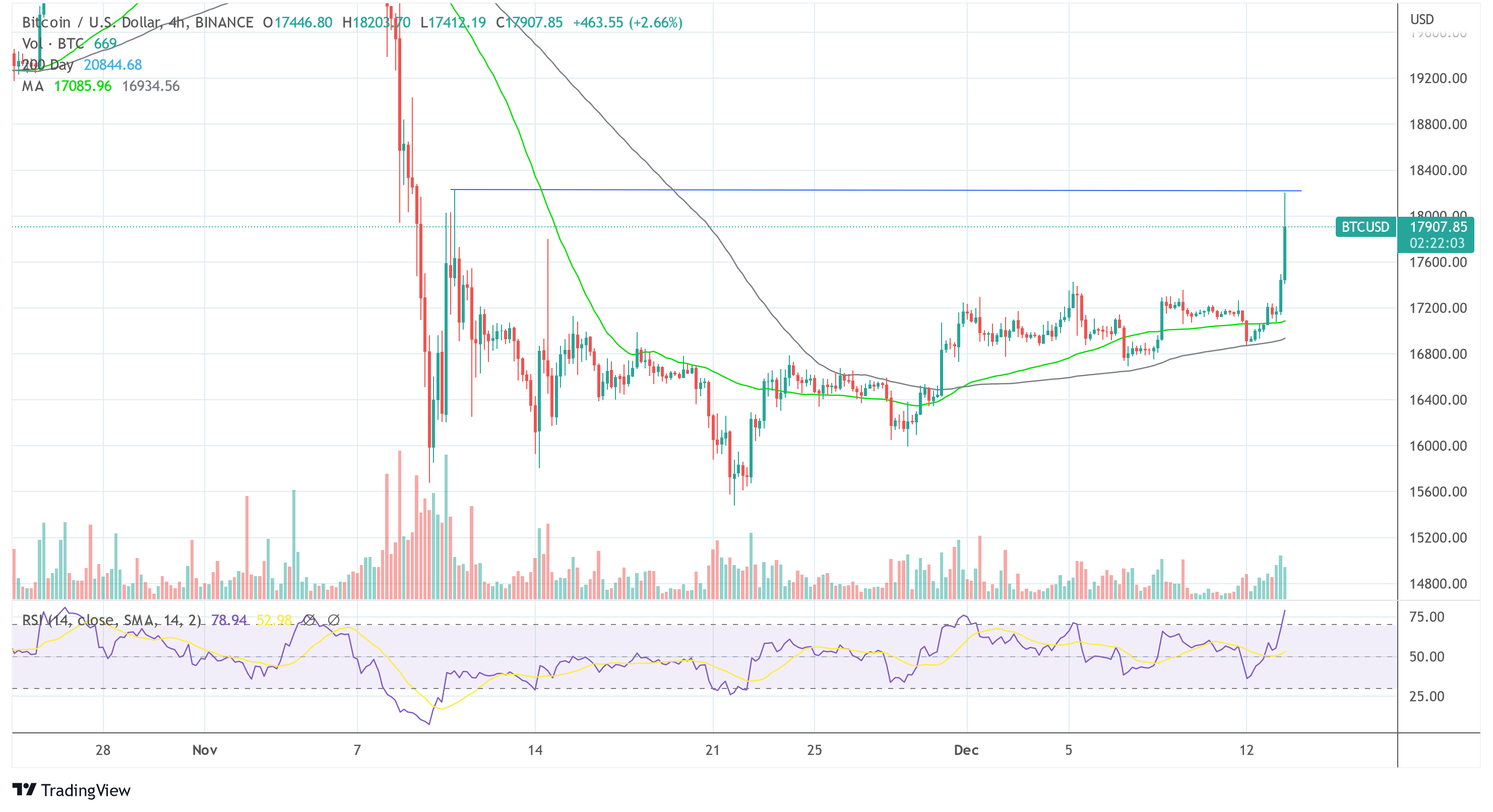 What Will The Federal Reserve Do With The Data?
Prior to the CPI data release, the market was forecasting a rate hike of 50 bps with a 72% probability, according to the CME FedWatch tool. This is compared to a 28% probability of a 75 bps hike.
Within the next few hours, it remains to be seen how this rate will shift due to the CPI print. The market was still expecting a 50 bps rate hike at 77% at press time. Today's CPI print could even further increase the probability for 50 bps.
As NewsBTC reported, JP Morgan published an analysis before releasing the CPI data, according to which it gave the highest probability (50%) of a CPI print of 7.2% to 7.4%. As it turns out, JP Morgan was almost spot on with this assessment.
JP Morgan assigned only a 15% chance to the 7.1% outcome and predicted that this could mean increases of 4% to 5% for the S&P 500.
Goldman Sachs forecasts that today's CPI print could mean a 2% to 3% increase for the S&P 500.
Original Source