After Bitcoin soared to over $26,500 following yesterday's release of the Consumer Price Index (CPI) in the US, the price experienced a sharp correction. The BTC price briefly fell just below $24,000. At the time of writing, Bitcoin was trading at $24,868, below key resistance at $25,200.
However, Charles Edwards, founder of Capriole Investments, has spotted an extremely bullish chart pattern for Bitcoin that could propel the price to over $100,000. Via Twitter, Edwards wrote, "Textbook perfect Bitcoin 'Bump & Run Reversal' bottom is back and the target is over $100,000."
Here's What The Bitcoin Bump And Run Reversal Implies
The Bump And Run Reversal (BARR), as the name suggests, is a reversal pattern that occurs when excessive speculation drives prices down too far, too fast, until it reaches extreme lows. The pattern, developed by Thomas Bulkowski, was also included in his book "Encyclopedia of Chart Patterns".
The pattern consists of three main phases: the lead-in, bump, and uphill run. As Edwards shows in the chart below, the Bitcoin price has formed the lead-in phase in the 3-day chart from November to 2021 to May 2022, which begins with a series of descending peaks that are instrumental to the initiating trend line.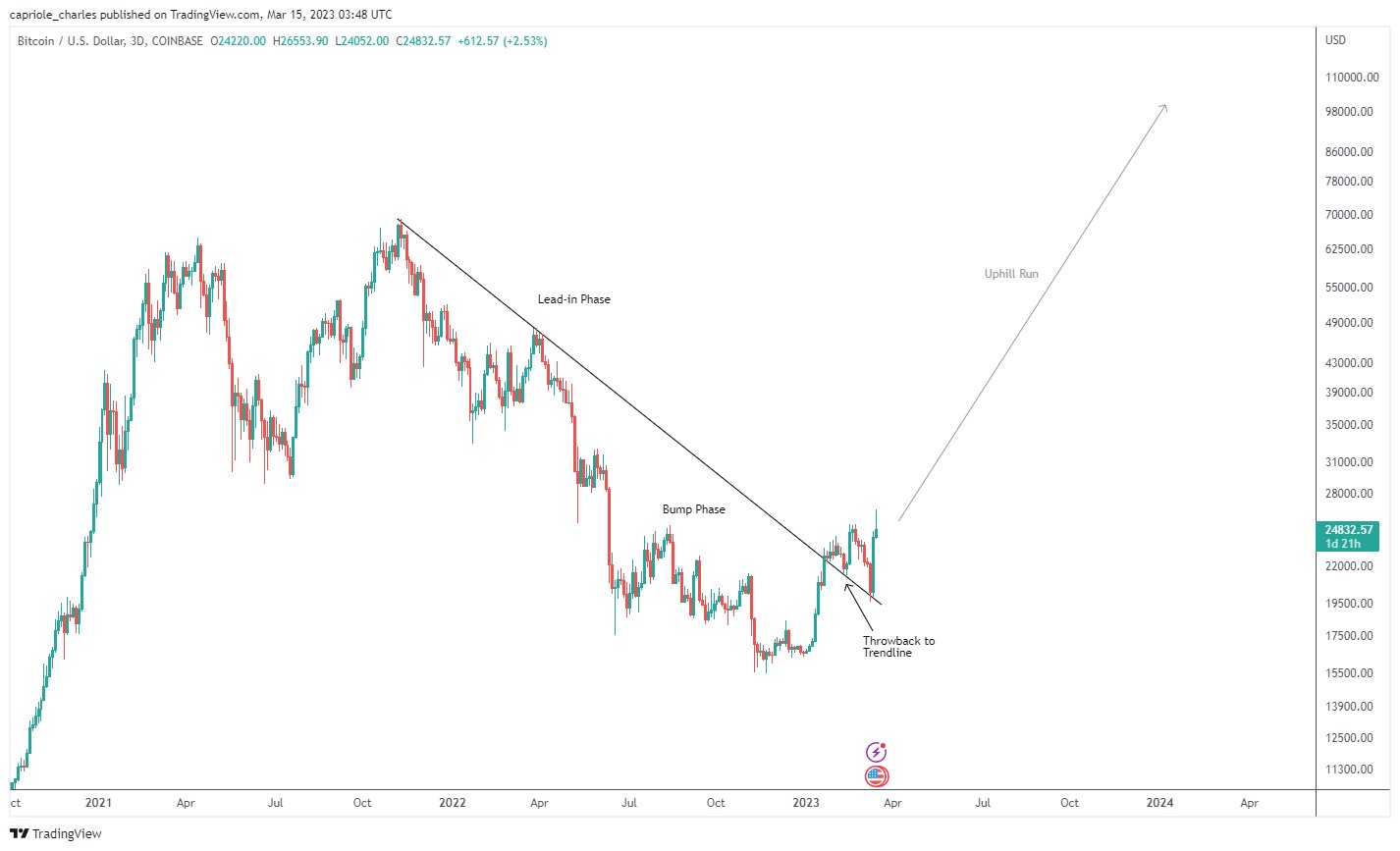 The bump phase begins with a sharp drop, with the price moving further away from the trendline. This phase began for Bitcoin in June 2022 when the price experienced a sharp drop before further bumps occurred, driving the price to new extreme lows.
At the end of the bump phase, BTC experienced a strong uptrend in January 2023, causing the price to break the trend line.
Both in mid-February and yesterday, there was a throwback to the trendline, where the BTC price bounced upwards. With this, Bitcoin has confirmed the beginning of the uphill run phase, which starts when the pattern is broken. This phase could take Bitcoin to over $100,000 by mid-2024, according to Edwards.
More Bullish Chart Patterns
The Capriole Investments founder also found two more reasons to be bullish on the short to medium term. Edwards shared the following two charts and said via Twitter:
Head & Shoulders and Wyckoff Accumulation at the last resistance level before $30K. Close this week above $25 and it doesn't get much better from old school technicals perspective.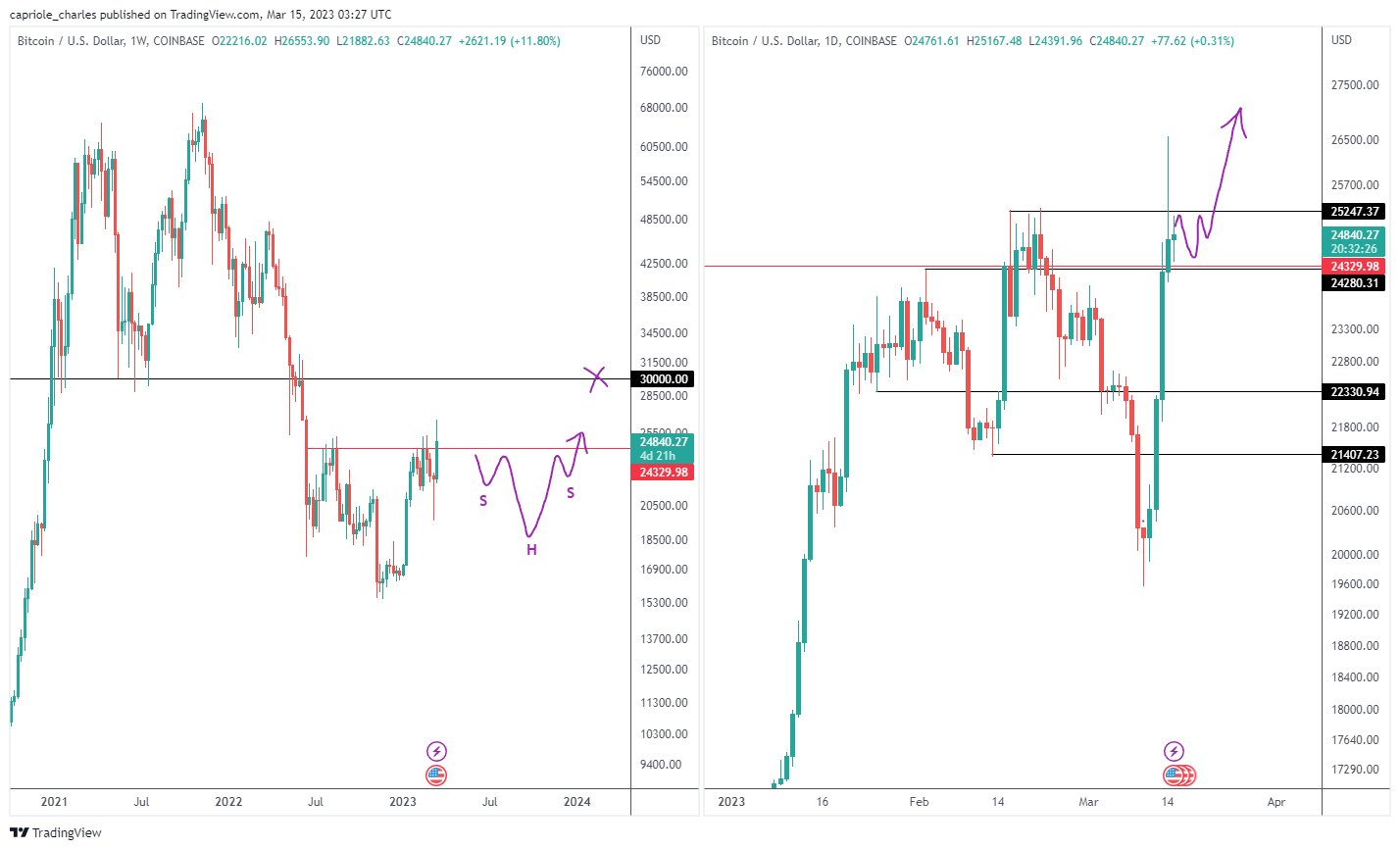 For now, resistance at $25,200 remains the most important level that Bitcoin needs to break through to build bullish momentum. Back in February, the price was rejected three times at the resistance. Yesterday's breakout did not last, which is why it remains the boundary for the start of a new bull run.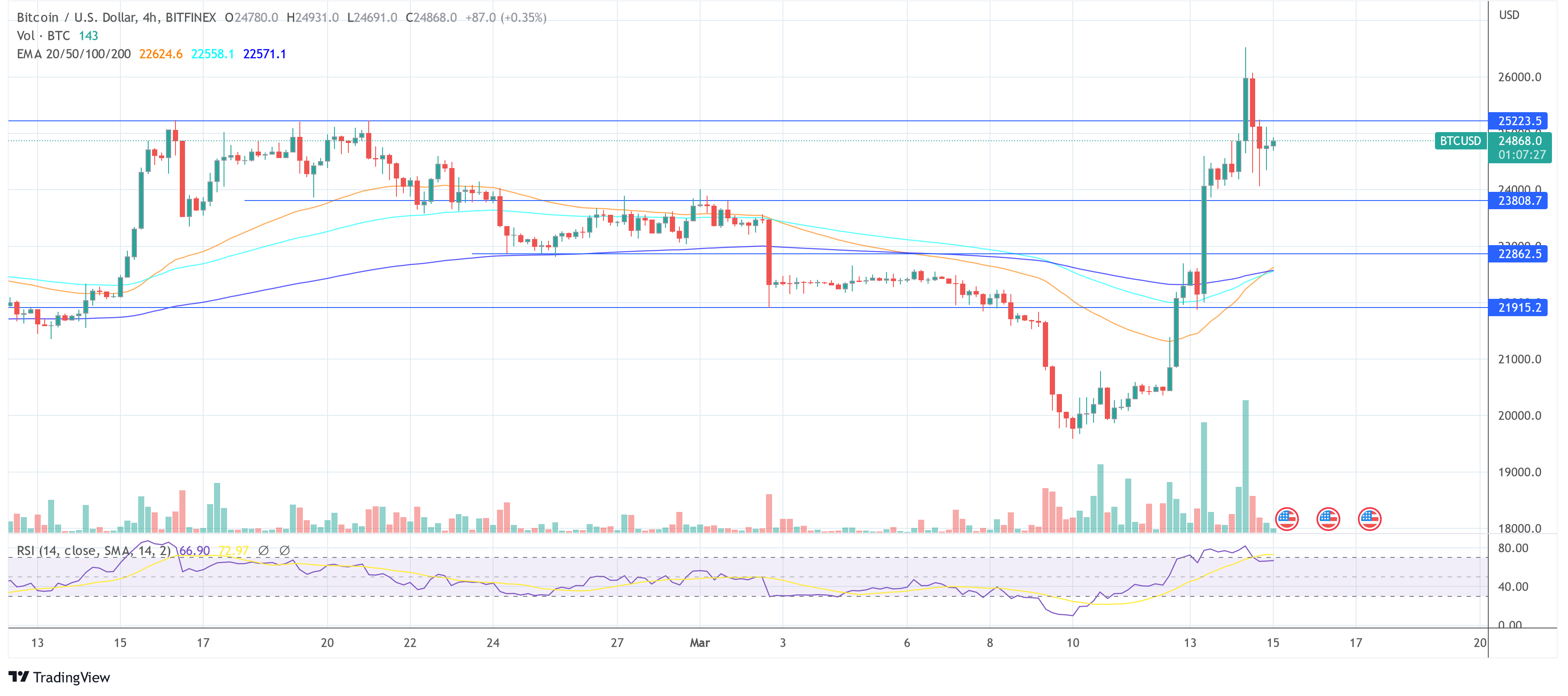 Featured image from iStock, Chart from TradingView.com
Original Source