Binance is adjusting fees charged to users transacting on Tron, a smart contracting platform and Ethereum competitor.
Binance Increases Transaction Fees For Tron-Link Transfers
In an update on February 10, Binance, the world's largest cryptocurrency exchange, said the fee adjustment follows a recent upgrade on Tron. 
Binance is increasing the cost of sending USDT, USDC, and TUSD by 160%. Users must now pay $2.6, up from $1, when transferring value using any of these stablecoins.
Notably, using BUSD to move funds on Tron will be even more expensive, rising by 175%. Transferring value using BUSD, the stablecoin endorsed by Binance, will now be up to $2.2 for a single transfer.
Meanwhile, simple TRX transfers will cost the sender 15 TRX, up from 1 TRX.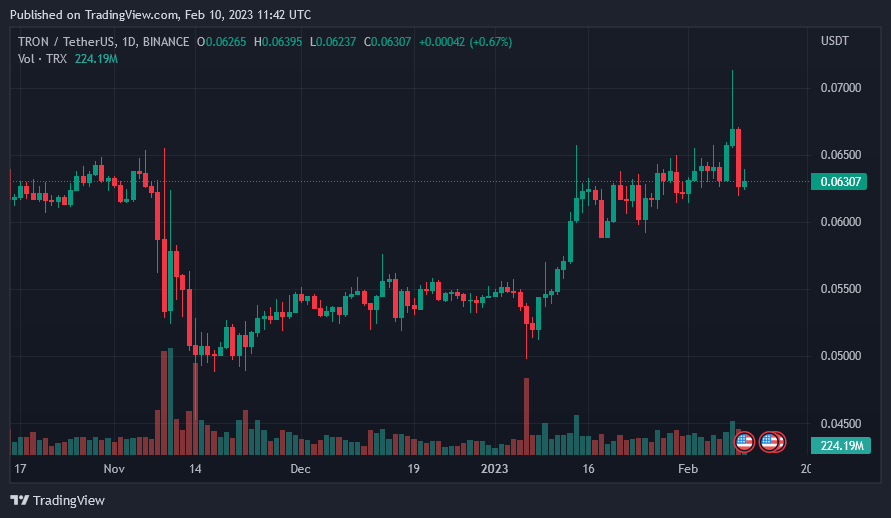 Those who use Tron's native tokens, including SUN, JST, BTT, and others, will have to pay an equivalent of 40 TRX. Because of the volatile nature of TRX, the dollar equivalent, Binance said, will also change.
The Impact Of The Dynamic Energy Model
On January 17, Tron upgraded via Aristotle, an implementation that increased the platform's capabilities. 
📢Java-tron GreatVoyage-4.7.0 (Aristotle) has been released!

🧐It is a mandatory update, containing a few important features:
✅Add dynamic energy model and "Stake 2.0" stake mechanism;
✅Use "libp2p" library as Java-tron P2P network module;
✅Add secondary cache for database;

— TRON DAO (@trondao) January 17, 2023
Every node in Tron was required to update. Besides introducing Stake 2.0, designed to improve the flexibility of the platform's resource model and drastically enhance the staking stability within the blockchain, Tron introduced the dynamic energy model.
The objective of this model, Tron explained, is to ensure balanced development across its ecosystem. By integrating the suggestions under Tron Improvement Proposal (TIP) 491, the network dynamically adjusts the future energy consumption of a contract based on what's currently consumed. Tron observed that there was resource concentration and this impacted user experience. 
This is because when the network is congested with low-value transactions, and as a result, other worthy transactions posted by dApp developers, for example, must wait longer. This development hampered the dApp ecosystem expansion. 
The dynamic energy model makes posting low-value transactions expensive by penalizing resource concentration using an energy factor. That means if a user calls a "hot" contract, they have to pay more in transaction fees. 
With this, dApp developers and other users won't have to wait longer for their transactions to be confirmed. Through this adjustment, Tron believes the network will be more robust, balanced, and diverse.
Over 50% of all USDT in circulation is held in Tron. Users prefer Tron because of its relatively low transaction fees compared to Ethereum. As of February 10, data from TronScan shows a circulating supply of $37.1 billion USDT.
Interesting. More than 50% of USDT is on Tron and this % has been growing recently.

For comparison, 39.87% is on Ethereum. pic.twitter.com/V30EbK1EJA

— Patrick | Dynamo DeFi (@Dynamo_Patrick) February 6, 2023
Feature image from REUTERS/Dado Ruvic/Illustration, Chart from TradingView
Original Source